---
Victoria Smith has definitely grown up in a racing family, being the daughter of F.J. Smith, a name well known in the racing world. Her parents own Smith Performance Specialties, the first shop to build a front-to-rear wheel drive conversion car for Super Stock. After growing up watching her dad race, Victoria decided to give it a try as soon as she was of-age!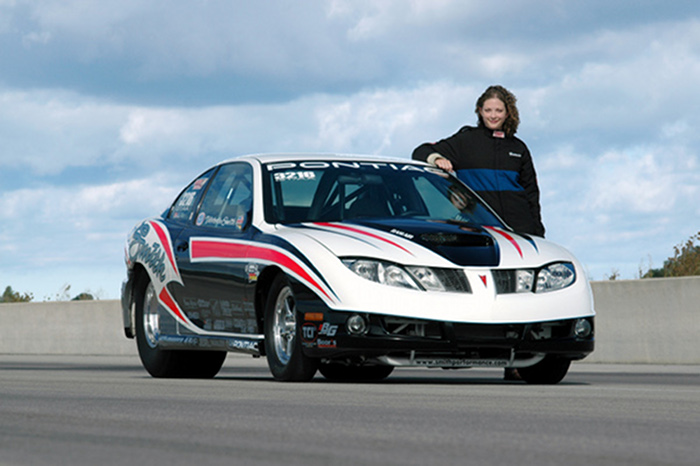 Victoria's 2005 Pontiac Sunfire
Engine: 350 SBC, naturally aspirated (1971 LT1).
Transmission: 3 speed.
Chassis: Smith Performance Specialties, rear wheel drive conversion tube frame, SFI 25.5.
Best ET & MPH: 9.34 , 145 mph.
Best 60': 1.23
Sponsors
Smith Performance Specialties.
Crew
FJ Smith, Murray Daniel.
Thanks to..
Victoria thanks her mom and dad ("of course!") for supporting her in her nine years of racing! Her plans for next year include more of the same - more racing, more going fast, and more winning! The typical goals of all race car drivers!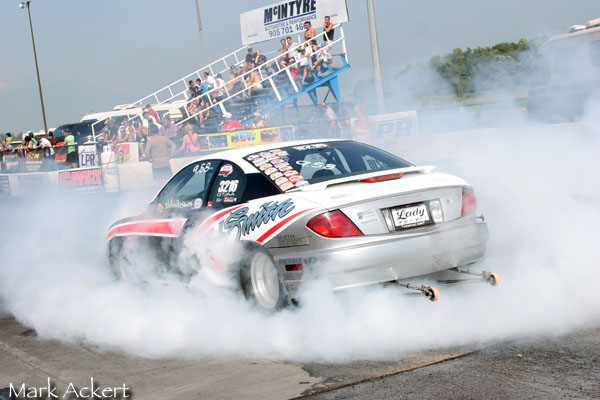 Accomplishments
2006 - Can-Am Stock/Super Stock Series Champion.
2006 - Dragracecanada.com Sportsman Drag Racer of the Year.
2009 - Can-Am Stock/Super Stock Series Champion.
2009 - Inside Track Magazine Canadian Drag Racer of the Year.
Words of Wisdom
Goals for Next Year: "More winning, better performance!!"
Superstition: "I'm not a very superstitious person. If you got yourself into thinking you had a lucky charm, what would happen if you forgot it at home on race weekend? Drag racing is very psychological, so I prefer to keep any 'mind games' out!"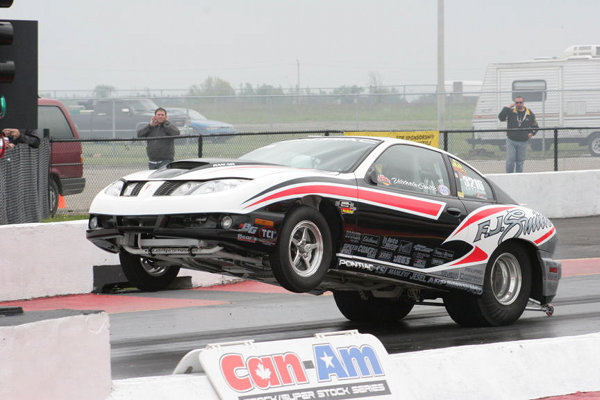 Who has been an inspiration/mentor to you? "My father. He has taught me everything I know about drag racing, and I couldn't have had a better teacher. He's my crew chief, engine builder, chassis builder, team owner, driving coach, etc...I know how lucky I am to learn from someone who has so much knowledge about the sport. Of course, growing up, I looked up to other woman racers: Shirley Muldowney, Cristen Powell, Melanie Troxel. We travelled a lot with my father racing, so I've had the opportunity to meet many of them."
Favorite Memory: "There are a few....winning my second championship was amazing. It's hard enough to win one, so to win two was pretty incredible!
Also, the first day out when my current race car was finished. It was built specifically for me and I made the first passes in it. I can't tell you how comfortable and safe I feel inside it!"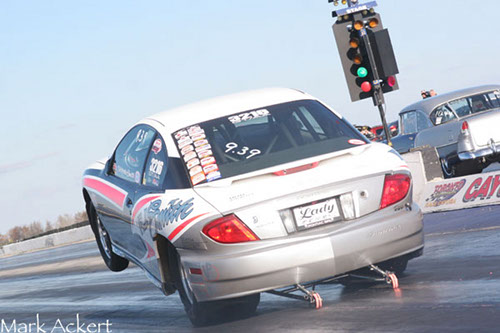 What advice would you give young girls who want to be race car drivers?
"Find a mentor - someone whose advice you can trust. Racers are a secretive bunch, and I can understand why. We've all learned how to win and lose the hard way. I've raced for nearly ten years and I'm still finding ways to lose. It's also helpful when you have someone you can commiserate with. When I was first starting to race, my friends couldn't understand how I could drive 4 hours to a race track and lose first round. No matter how involved in the sport you are, unless you've raced and gone rounds, you really don't understand what a difficult and frustrating sport this is. Only other racers will truly understand!"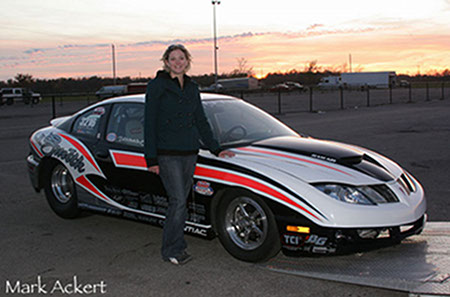 What advice do you have for your Sisters In Speed? "Practice, practice, practice! Drag races are short, so it takes a lot of time to get seat time. The devil is in the detail, so keep good records, and be consistent! Don't let your gender or age become an issue. At the race track, I am a race car driver first, and everything else comes second."