---
Christine is a busy student attending Fleming College in Peterborough where she lives and is studying to become a personal support worker. She has been racing her dragster for 10 years and got her start in a junior dragster at the age of 10. She got that start in a way many of us can only dream of! You see, even before she was born, her dad's best friend Steve was involved in the racing scene and apparently her dad was paying attention. He didn't want his daughter playing traditional sports so he had the idea to put her into something that would be fun for the whole family. Christine and her dad were watching drag racing on TV shortly before Christmas and she was thinking it was really cool. Christmas morning the hallway was filled with wrapping paper! That lucky little girl got a junior dragster! Since that day forward she could not imagine her life without it! She currently competes in Shannonville Motorsports Park's Super Pro class.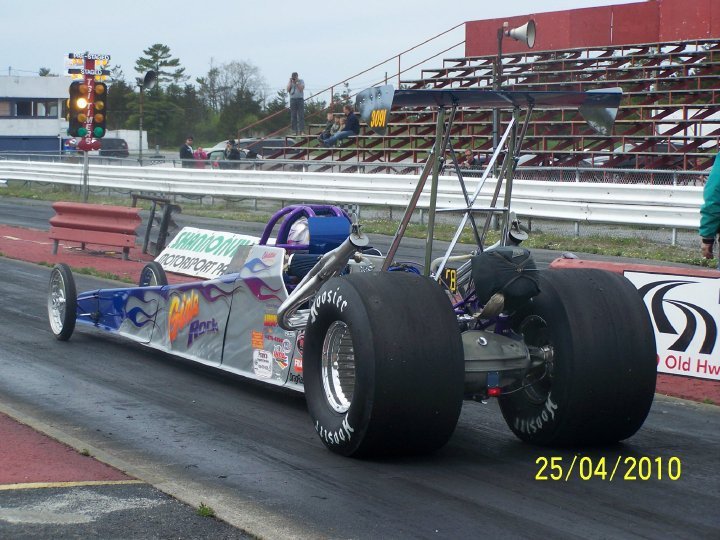 Christine's 1996 Spitzer Dragster
Engine: 350 SBC, fuel injected.
Transmission: Powerglide.
Chassis: Mike Spitzer, chrome moly.

Best ET & MPH: 1/8 Mile: 6.69 @ 101 mph.
Best 60': 1.40
Sponsors
Kawartha Import Automotive
Frank's Property Maintenance
The Airbrush Sign Show
Kawartha Sledarama
Spoiled Sports Polaris
Crew
Joe (dad & crew chief), mom Kathy, Frank, Nicole, Grandpa Jim, Grandma Gladys, Traci, Kim, Carly, Tyler, Greg, Jessica, Tabitha Steve, Winter, Sue, Holly, and Alicia!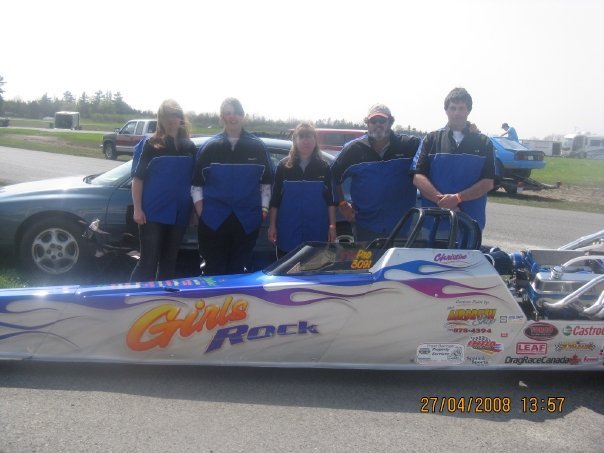 Thanks to..
Christine has raced her dragster mostly at her home track of Shannonville Motorsports Park, but has also competed at Grand Bend Motorplex, Luskville Dragway-Quebec, Toronto Motorsports Park, and St. Thomas Dragway.
She thanks her "amazing" crew who always get her down the track safely. Huge thanks to her many sponsors who have been with her for her whole career, including her junior dragster years. Her friends and family in Peterborough who have been there to watch a young girl grow into a young woman who wants to follow her dreams! She also thanks the people she races with, who she credits with teaching her a lot about the sport over the span of 10 years, she couldn't have gotten down the track without them!
Plans for next year include the addition to her dragster of a new transbrake and computer, sounds like an exciting year!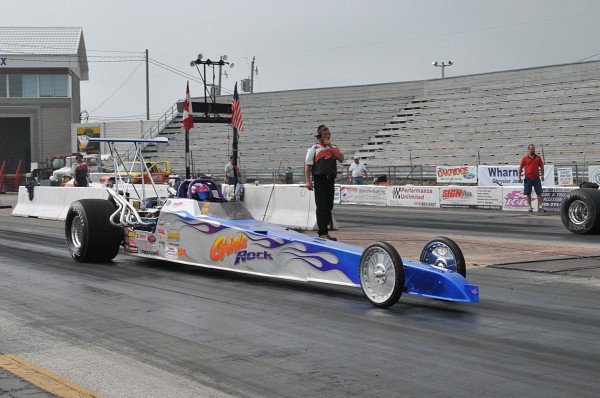 Accomplishments
2006 Junior Dragster Championship Shannonville Motorsports Park.
2008 Rookie of The Year at Shannonville Motorsports Park.
Car show awards
Christine has yet to win in her full size dragster but she is very confident that win will come soon!
Words of Wisdom
Goals: " My goals are to eventually get a bigger motor and compete in the faster classes. I hope to be a spokesperson for girls who think they can't do something, when I know they can! Lastly my goal is to finish college!"

Favorite Memory:" One of my favorite memories was at the Show Me The Money Tour race at Shannonville. I took out a good racer first round, as I was coming off the track and heading to my pit, everyone was cheering for me! They were very excited and it brought a big smile to my face!"
Do you have a lucky charm/superstition?: " I have a Winnie the Pooh bear behind my windshield, he rides with me every time. I've had him since I was in the junior classes. I also have two nieces and one nephew who I also believe to be my lucky charms!"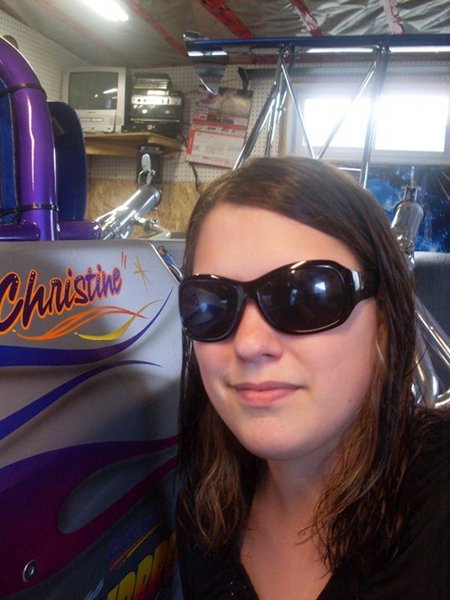 Who has been an inspiration/mentor to you?" I have a few people who I look up to. The first is Kendall Hebert. She showed girls like us that we can do anything! She was the fastest female in Canada but sadly she passed away doing what she loved. On the side of my car I have a sticker of Kendall, and I believe she is always keeping me safe! Rest In Peace Kendall. The second is my dad. He has taught me so much, and lets me do what I love. He made my dreams come true, he is the BEST dad ever, I love you Dad! The third person is my brother Greg. He helped me though so much when I was a kid, and still does. He taught me to never give up when something goes wrong, and that it can always be fixed. He is my only sibling and we are pretty close. He has three children and one of them races a go kart! I guess that makes us a racing family!
Shirley Muldowney and Erica Enders taught girls that we can do anything we want to do, they are my hero's!"
What advice would you give young girls who want to be race car drivers? "My advice would be to just do it because it is one of the best feelings in the world, just the thrill and experience of racing! It's nice to beat some boys on the track! You can do anything you set your mind to, just have fun!"
What advice do you have for your Sisters In Speed?
"The advice I would give is always put the pedal down and kick some butt! Always have fun, and put those boys on that trailer!"