---
Dina 'The Chef' Parise is a woman on a mission! Not only is she out to WIN, she want's everyone to remember that 'Freedom is NOT Free'! Dina lives in New York State with her husband and teammate Andrew. Don't let the fact that they are teammates fool you, they are also fierce competitors! Dina started racing six years ago in a Super Comp car. Her husband will tell you that first trip down a dragstrip was the beginning of the end! She fell immediately in love with the sport! It was a perfect outlet for her very competitive nature which began years ago when she skated professionally for the Ice Capades! She began her racing career in 2004 with a trip to Frank Hawley Drag Racing School where she received her Super Comp license. At that time, her husband was building his '53 MBRC Pro Chassis Design Pro Mod and she took over driving their 1967 Super Comp Camaro. This was no tame beast with 1000 HP and a 1071 BDS Blower sticking out of the hood! Definitely NOT your typical bracket car!
After a season and a half, Dina wanted to go faster! Much to Andrew's dismay, she had her sights set on the Pro Mod! Parise Racing was born! This pair is very good at amping up the entertainment while at the same time conveying a very serious and important message. Outside of racing, they are very passionate about raising awareness for Veterans and for the Multiple Sclerosis Society. For more information you can visit their website at www.pariseracing.com.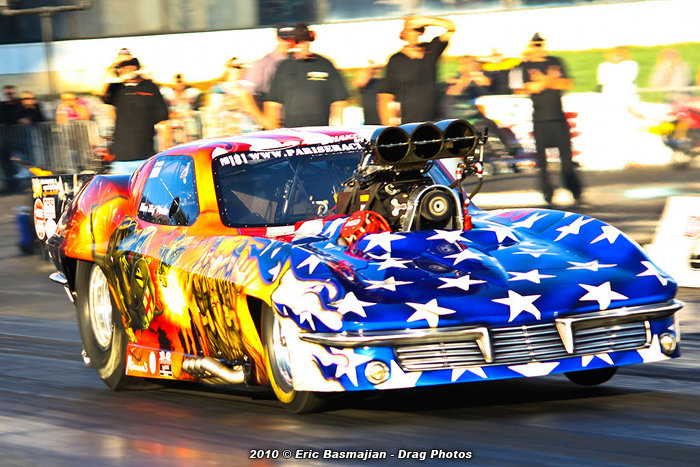 Dina's 1963 Corvette Pro Mod
Engine: 526 HEMI.

Transmission: 3 speed Lenco with a Bruno.

Chassis: Tim McAmis.
Best ET & MPH:
6.09 @ 236 mph.
Best 60': .921
Class: NHRA Pro Modified
Crew Chief:
Dave Jordan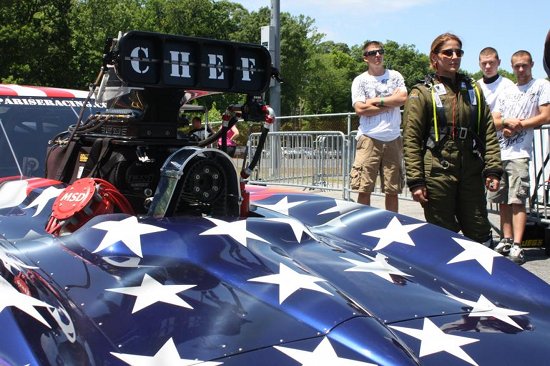 Sponsors
Thanks to..
"That is a long list! My husband Andrew, of course. Our family. Our Crew Chief Dave, he's GREAT! MBRC Pro Chassis Design - they have been so helpful, especially after my crash! Speed Scene Live; Scott, Diana, and Bruce. NGK, who has been so supportive of our race team since our Super Comp days!"
A note about Dina's beautiful and unique paint job - It reads as a history page. One side of the car showcases the Vietnam era and shows everything from the protestors, to the soldiers, to the Vietnam wall. The other side showcases the more modern Iraq/Afghanistan era. She wants anyone who sees the car to remember that 'Freedom is NOT Free' and to remind you not to take what we all have for granted. The next time you encounter a Veteran, remember to say 'Thank You!'
Accomplishments
2010 - Dina won the 1st race of the season in the Northeast Outlaw Pro Mod Association (NEOPMA).
She also went to a final (but lost) and a semi-final against her husband!
Words of Wisdom
Goals for Next Year: "I have quite a bit to prove this season I was 2nd in points in the NEOPMA before I crashed and missed a few races. I want to run for that title next year!"
Lucky Charm/Superstition: "I have a coin in my firesuit that was given to me by a Veteran that visited with us at Maple Grove Raceway That's my lucky charm. My superstitions date back to my skating days...such as putting a certain boot on first etc..."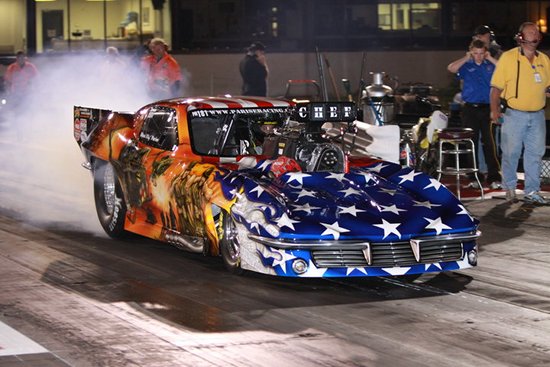 Favorite Memory: "For sure my first win!"
Who has been an inspiration/mentor to you?"There are many. My true inspiration is our Veterans. They are what keeps me going. Without them, we would not have what we do."
What advice would you give young girls who want to be race car drivers?
"Go for it! Does it really matter if you're a girl? It shouldn't matter. As long as you concentrate on being a good driver, that's what matters!"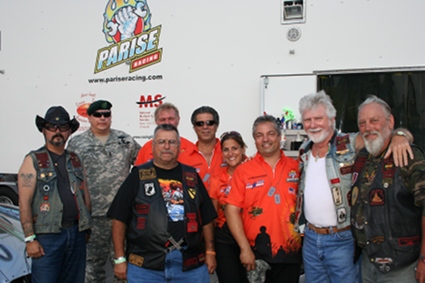 What advice do you have for your Sisters In Speed?
"I just say we all need to make our mark as drivers. Not so much as female drivers, but drivers. Look, I ALWAYS have my makeup done, and I look as girly as I can when I am at a race. But, once that helmet goes on, all bets are off! Especially when I am racing my husband! LOL
Ladies, we are fierce and we look good doing it. That's the bottom line! So let's work hard and take those boys at the stripe, and be safe doing it! That's my advice!
Have a great season!"
Plans For Next Year: "Some things are still up in the air right now. WE ARE STILL IN NEED OF SPONSORS." So, if you are interested in sponsoring Dina or her team, PLEASE contact them! www.pariseracing.com.
In addition to their website, Parise Racing has many social networks. Please feel free to sign up! The UStream is active during the season on race weekends. There is a live feed from their Pit Area all weekend as well!
www.facebook.com/PariseRacing
www.twitter.com/pariseracing
www.ustream.tv/channel/parise-racing