---
Tiina Duncanson lives with her husband Peter in Acton, Ontario and works as a Mechanical Designer. In her spare time she drag races. I would go so far as to call her extremely dedicated to her sport! The 2010 season is proof of that and I'm sure it is her most memorable year as she managed to take home 6, count 'em 6 coveted Wally Awards. She races her Pro Stock Snowmobile in both the NHRA Lucas Oil Series and the NHRA Full Throttle Series! Dedication is an understatement as she has participated in races at Atco New Jersey; Indianapolis; Norwalk Ohio; Joliet Illinois; Napierville Quebec; Lebanon Valley New York, Columbus Ohio; Brainerd, Minnesota; Cecil County Maryland; Martin Michigan; and Maple Grove Pennsylvania! Wow!
Tiina's 2010 Ski-Doo Mach Z
Engine: MRE 1000 cc.
Transmission: Micro Belmont.
Chassis: PCS Tube Frame.

Best ET & MPH:¼ mile : 8.07 @ 164 mph (asphalt)
1/8 mile : 4.71 @ 140 mph (ice)

Best 60': 1.001
Sponsors
Wiseco, Camoplast, Carlisle Belts, ProStock Inc., Bosch, Ski-Doo, K&N, Woodys, Sled Pro, V-Force, Digatron.
Crew Chief:
Thanks to..
Tiina thanks her husband Peter Duncanson, Mike Crooks, Jeremy Hannen and Paul Austin!
Her machine is not only functional, but beautiful and boasts an original paint scheme by Jason Bateman entitled 'The Goddess of Lightning'.
Accomplishments
2010 - 6 Wally's!!!
As if that's not enough, Tiina is also the 1000 Open Modified World Record holder for 1/8 mile on ice, the 2010 NHRA Pro Stock Snowmobile Champion, the NHRA Pro Stock E.T. record holder, and won the first ever Wally given to a Pro Stock Snowmobile!

Words of Wisdom
Goals: "To stay on top!"
Superstition: "Lots of coins are taped to my sled"
Lucky Charm "Snowmobile belly button ring."
Favorite Memory: "My first ride on a 100p Pro Stock & My first Wally!"
What advice would you give young girls who want to be race car drivers?
"It's a life style not a hobby."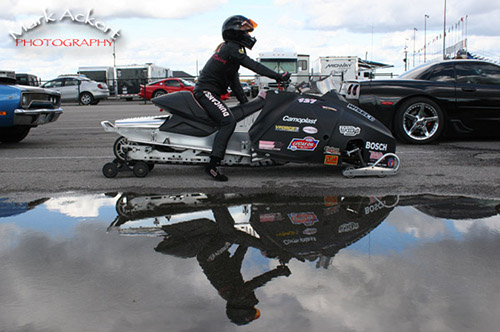 What advice do you have for your Sisters In Speed?
"Have respect for speed, conditions are everything. Marry your crew chief if you really want to WIN!"