---
Patricia lives in Wilsonville, Ontario with her husband Chris, who is also a drag racer. Patricia may only have three years experience behind the wheel of a race car, but she's been watching and learning from the sidelines and the pits for 22 years! She competes in the OSCA's Open Comp class which is a class open to no box bracket and street cars running 10.50 and slower. The coolest thing about the class is the "5/10th pro tree" start which you will probably never find at a bracket race! She decided to start racing when her good friend Cathy Mason bought a car and started racing it. She said to all her friends, "If that little shit can do it, so can I!" She pulled the Chevelle out of the barn and started building it. With the help of family and friends, it became the beautiful car it is today. Patricia did an impressive 90% of the work on the car including the body and paint! I'm not sure how well it shows up in the pictures, but the paint is a tribute to our brave men and women fighting overseas!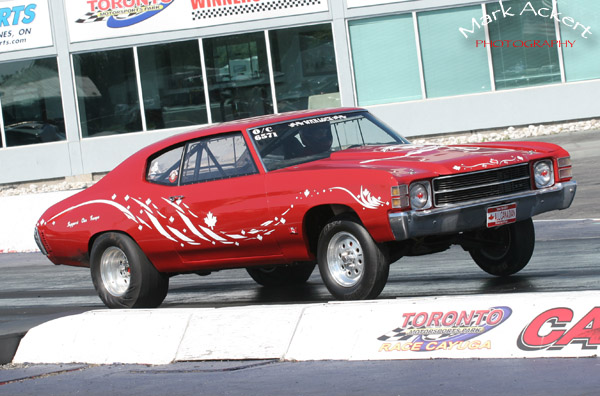 Patricia's 1971 Chevy Chevelle
Engine: 427 BBC.
Transmission: Warlock TH350.
Chassis: Stock suspension, 10 point roll cage.
Best ET & MPH: 11.47 @ 118.78 mph

Sponsors
Warlock.
Muscle Machining.
Hess Performance.
Crew
Chris and James Tourloukis.
Thanks to..
2010 didn't allow too much seat time for Patricia, as she shares driving responsibility with her son James and it seems that for the most part 2010 was his turn to drive. Her mission is always to have as much fun possible with family and friends and she speaks very highly of the entire OSCA family. I can confirm that - I've seen her having LOTS of fun at the track! She is always smiling and the first to give encouragement to her friends and family in the staging lanes!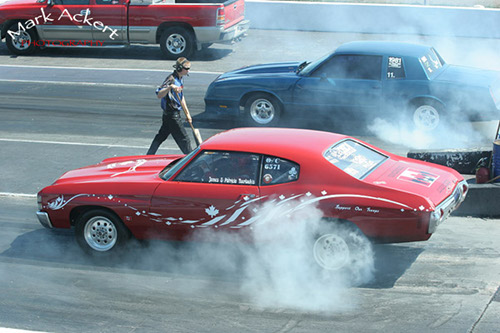 Accomplishments
2010 Waterford Pumpkinfest
Words of Wisdom
Goals for Next Year:"To have as much fun as I can and watch my daughter Jessica race her drag sled....it will be her first time racing!"
Favorite Memory:"Kicking my husbands butt in a grudge match this year!"
Mentor/ Inspiration: "Cathy Mason" Cathy Mason sadly passed away suddenly in 2007 but not before touching the lives of many of the OSCA's racers. She was affectionately nicknamed "Lil Miss Nasty" by her friends (Her husband Rich is "Big Nasty"). Her spirit and memory will live on forever in the hearts and minds of many of the racers and I'm sure she is always watching over all of us!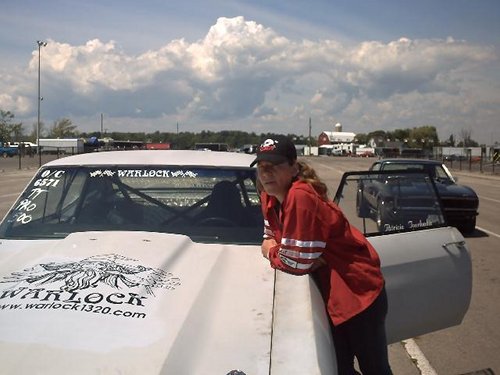 What advice would you give young girls who want to be race car drivers?
"Go for it! Have fun, and BE SAFE!"
What advice do you have for your Sisters In Speed?
"Have fun and kick male butt!"