---
Sarah was only 15 years old when she got her first car, a 1999 Honda Prelude. At the time she was hanging out with an import car crew and at every birthday or Christmas, she would ask for parts to make her Prelude faster! She was hiding a very surprising hobby from her parents, and after her dad had bought her yet another performance upgrade, she asked him if he wanted to see where she was hanging out on the weekends? I'm sure his curiosity was peaked and he said yes of course! They headed off to Great Lakes Dragway, the whole time in the car, her dad giving her pointers on shifting her manual transmission. He soon realized that she should be the one giving the pointers! When they arrived at the track, he was pleasantly surprised! "You watch drag racing on the weekends? That's cool!" Ten minutes later, he saw his little girl's Prelude racing down the quarter mile and he was completely lost for words! It took a long time for the fact that his daughter was a drag racer to sink in!
In the meantime, Sarah's mom and dad were building a hot rod of their own, a 1984 Trans Am! They worked on it for just over a year and completed it the weekend of Sarah's high school graduation. They took the Trans Am to the dragstrip for testing and Sarah's dad was trying to get the car to work, all the while waiting in the staging lanes with his daughter Sarah and her Prelude! Her dad then asked her if she would be interested in driving the Pontiac, he teased her about her 'import' and challenged her to drive an "American car"! Just to make her parents happy, and to stop her dad's teasing, she said yes! It only took one pass, and she was hooked! It only took another 2 passes down the track and she had the car going 11's! That was when she decided to sell her Prelude and bought a 2004 Pontiac GTO!! She now drives a 2006 GTO as her street car and hopes to go 8's in her Trans Am someday!
Sarah's 1984 Pontiac Trans Am
Engine: 540 BBC
Transmission: Turbo 400
Best ET & MPH: 9.18 @ 148.27 MPH
Best 60': 1.21
Chassis:Stock suspension
Crew
Gary Brown (Sarah's dad), "Hot Crew Chief" Jennie, Doug and Steve Roden from Legend Racing
Sponsors
Legend Racing Ent.
Thanks to..
"My Daddy of course, My Momma (Guardian Angel), My Best Friend/"Crew Chief" Jennie, Doug & Steve Roden from Legend Racing and all the track owners at Great Lakes Dragway. HUGE thanks to my boyfriend Eddy! He's been there since day one when I first got the Trans Am!"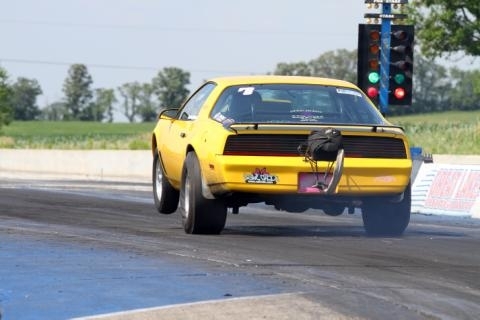 Accomplishments
2011 IMSM - Went to the Final Round for the 1st time! Twice!
2010 IMSM - Finished 3rd in points
2010 - 4 semi final rounds
2010 - 3 #1 Qualifier finishes
2010 Most Improved Award
2009 IMSM Finished 8th in points
2009 2 semi final rounds
2008 IMSM Finished 12th in points
2008 Sportsman of the Year




Words of Wisdom
Favorite Memory: "2011 Race # 1- April 17th, went to my 1st Final Round of racing on my birthday weekend and even though I lost, I will never forget how excited everyone from the series was for me and the amount of support I had going into the final round. I received the best compliment in my life that day from my engine builder Doug Roden, who also drives a 6 second Pro-Mod. "You have come a long way as a driver, there were a couple runs today that I know you would have aborted in the past and I am honestly proud of how much you have grown in the 4/5 years that I have been watching you"!
Mentor/Inspiration:
"Ashley Force Hood has always been an inspiration to me and my hero. However, my Dad has been my mentor since day one, spending every weekend with your father since 18-years old and no matter how a race goes he always has a smile on his face after every pass. Knowing how proud he is of me is the best feeling in the world. In addition to my dad I've had several experienced drivers mentor me over the years and I wouldn't be half the driver I am today without their help."
Lucky Charm "My Momma. Before every race she would kiss me and say "go kick those boys butts". Now it is her diamond ring, I cannot race without it on. Also, the memorial sticker for her on my back window because the day I put it on I know she was watching over me because I had my first big block blow up on me top end, leaking oil in between the tires but never touched my tires and what should have turned out to be really bad I was able to get out of the car without a scratch! "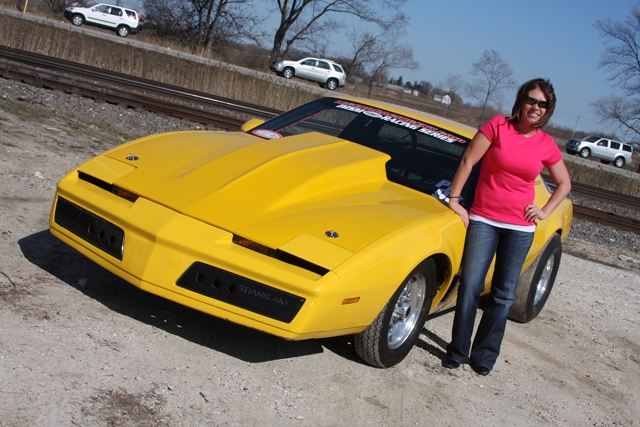 What advice would you give young girls who want to be race car drivers?
"NEVER GIVE UP! If you love it, do it! One day this will be a FEMALE dominated sport!"
What advice do you have for your Sisters In Speed?

"Same thing, NEVER GIVE UP! DO WHAT YOU LOVE, LOVE WHAT YOU DO! "