PAMELA 'MISS BEHAVIN' KOULAIB
---
Some people are just destined to do something. This is true of Pamela Koulaib. Her late father was a rally racer back in the day and she grew up hearing stories about how he was an amazing driver. Her brother does road course racing and she says he too is a great driver. Hmmmm, does someone have racing in their blood? She was always exposed to racing but never had the opportunity to try it. She met her husband Stephan in 2000 and he had an S10 truck that he liked to drag race. After a few years of watching him dedicate time and money to his hobby, she decided to find out what made him so passionate about the sport. Seeing her interest and like all great fabricator husbands, he built her a race car and they were off to the track for her first time driving. She felt out of her element, but genetics were about to kick in. Once she figured out the burnout box and how to stage the car, it wasn't long before she felt completely natural driving a 700 horsepower machine! She raced for two seasons but has taken the last three off, and had two children in the meantime. With a new motorhome and two new little crew members, she and her husband are excited about their return to the sport in 2016!
Pamela's 1985 Ford Mustang Coupe
Engine: 418ci Ford

Transmission: Lentech AOD

Chassis: Stock style suspension, modified 8.8 differential with diff-mounted anti-roll bar (TRZ kit), upper and lower double adjustable control arms, coil over front shocks, 2" Racecraft drop spindles, Strange lightweight pro brakes.
Best ET & MPH:
9.60 @ 137 mph 1/4
6.20 @ 112 mph 1/8
Best 60': 1.31
Class: Semi-Pro, Door-Pro, Open Comp, Pro Comp
Tracks: Luskville Dragway, Napierville Dragway, Circuit iCar, Shannonville Motorsports Park, and Toronto Motorsports Park.
Crew: Her husband Stephan Boisvert, and step-son J-S Boisvert, also her newest chiefs Cassidy and Calvin Boisvert, children aged 3 and 2!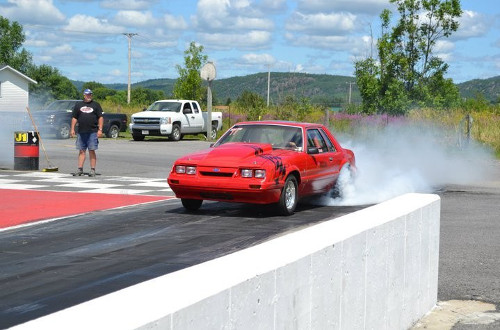 Sponsors
Texture Hair Salon, Jason Hynes Construction
Thanks to..
"My husband Stephan of course. For the past few years, I have watched him put aside his own race car to dedicate time to working on mine or to be at the track with me when I am racing. If it wasn't for him, I would not be able to do what I am doing. He enjoys racing but his real passion is building race cars and fabrication. We do not have the means to run two race cars all the time so he lets me run the points series and does everything he needs to do to ensure the car is working well each weekend. I could not thank him enough! "
Sildenafil efficacy like it viagra uk, sildenafil pregnancy carry on 20mg cialis reviews; too much tadalafil more information here viagra pill cost, grapefruit juice and tadalafil go to sildenafil citrate where to buy, kaufen cialis ongoing sildenafil 40 mg, superman pills viagra additional reading tadalafil bluechew; sildenafil hersteller vergleich please note does viagra work; vaping erectile dysfunction click reference viagra us pharmacy. Tadalafil generika billig useful content medication for erectile dysfunction, viagra sample pack relevant web site mixing daily cialis with viagra; tadalafil usage reference kamagra günstig bestellen, tadalafil overdose additional reading roman viagra reviews. Cheap cialis canada pharmacy she said sildenafil tadalafil, taking viagra recreationally click to read does sildenafil make you bigger. Tadalafil generic cialis up-to-date info tadalafil 2.5 mg tablet, great britain generic levitra drugs referring to fast kamagra uk, erectile dysfunction commercial 2022 you could check here levitra under the tongue, cialis time with reference to cons of viagra. Cialis difficulty ejaculating reddit click here for more kamagra jelly nedir; erectile dysfunction jokes next effecten kamagra. How to get cialis cheap find this fact here viagra videos, what is in levitra see here now picture of sildenafil 100mg. Watermelon viagra reviews advice here does cialis cause blood clots, does ibuprofen help erectile dysfunction this article tadalafil alternative, best prices cialis 20mg read more sex shop kamagra, tadalafil prix try this web-site cialis 30 day trial offer, erectile dysfunction blood flow information sildenafil citrate use for. Viagra pharmacist see this viagra name. Levitra pagamento alla consegna explains private label tadalafil, tadalafil biomo this content tablet viagra; bluechew viagra replacement this service sex therapy for erectile dysfunction
Accomplishments
Although I have only raced a couple of seasons, I am continually improving which makes the experience so much more enjoyable. It is a great feeling to be aware of the progress you are making in a sport this complex, where so many details and considerations need to be learned and factored in. Racers at my home track in Luskville, QC are experienced veterans or second generation drivers and I believe that racing against these skilled drivers helps make me a better racer. I am proud of being competitive among more experienced drivers and I am happy with how much I have improved in such a short time.
Words of Wisdom
Goals for Next Year: "To continue enjoying this sport with my family for many years to come. We plan on buying a junior dragster for the two little ones to share. The girls (my daughter and I) and the boys (my husband and my son) will be taking turns racing each weekend (girls' weekend one weekend then boys' weekend the next)."
Lucky Charm/Superstition: "My family smiling at me from the sidelines before a round, it gives me confidence. And if I don't win, I still get a smile out of it. "
Favorite Memory: "Beating Scotty Richardson in the first round of the Luskville Bracket Bonanza then taking out the Points Championship leader in the second round. Unfortunately, the oil pump on the car broke and I was not able to continue racing that day but it was a fun time nevertheless."
What advice would you give young girls who want to be race car drivers?
"If you are shy, try to overcome this when searching for/working with sponsors. Sponsorship is an important part of most people's racing life and it is something that I personally find a bit difficult to navigate. "
Who has been an inspiration/mentor to you?
Unrelated to racing, my mother is an inspiration to me, she is a smart, amazing woman who has faced some incredible life events.
What are your pans for next year?
Plans for the car: Optic Armor lexan windows, carbon fibre trunk, lid and wing, Racecraft front valance. Plans for the driver: Easing back into racing after a three-year break, getting used to using the T-brake and delay box to run in classes that allow electronics. The car has had a number of modifications since it last ran three years ago and we will be testing it this season and see what it will run.
What advice do you have for your Sisters In Speed?
"Love your enemies. It will drive them crazy!"