---
Michele has been racing for eight years. She got her start all those years ago when she would drive her convertible Mustang 60 miles one way just to go racing! This was only after her husband Chris first talked her into going. She attended a bracket race and life as she knew it before she went down that 1/4 mile was over! A drag racer was born! Michele was hooked! The following season, Chris started working on a new '94 Mustang that Michele raced in the Street Class at her local track. Every year the car got faster, and soon they were trailering it to the track. Eight years later, and she has in incredibly fast machine! Plans for next year are to win, go fast, have fun, and travel to different tracks with her family!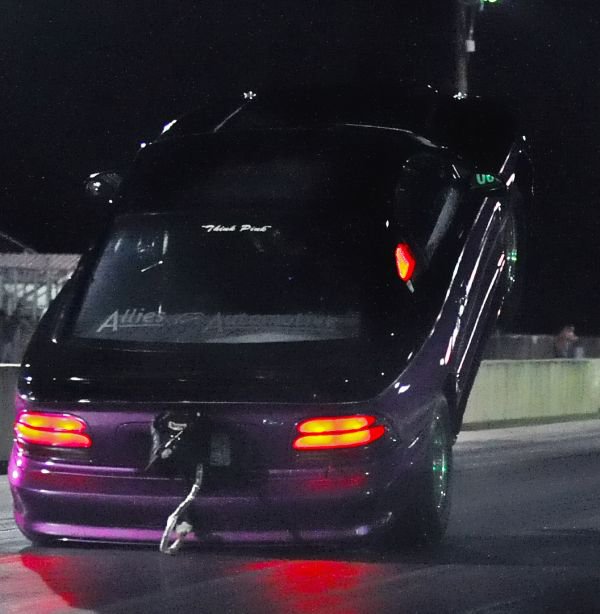 Michele's 1994 Ford Mustang GT
Engine: 588 BBF.

Transmission:Powerglide

Chassis:Full bodied, stock suspension
Best ET & MPH:
8.90 @ 154 mph 1/4
5.70 @ 126 mph 1/8
Best 60': 1.26
Class: ET Brackets (non-electronics), 5.80 index, Extreme Warrior (local)
Crew Chief:
Chris Kato
Crew:
Stephen, her son.
Cheerleader:
Stacy, Michele's best friend.
Sponsors
Onshore Quality Control Specialists
Thanks to..
Michele lives in Texas and has competed at San Antonio Raceway, Little River Raceway, Houston Raceway, Texas Motorplex, Thunder Road Raceway, and Pine Valley Raceway. She thanks:"Greg Spreen my engine builder. All the folks at Centex Hotrods. Bobby Doerr my transmission builder. Chris Kato my crew chief and car builder/tuner. Stephen Ross my tire/fuel guy and gopher. Stacy Clark, Jeff Witty and Tommy Freeman who have been my starters and who watched me grow up at the drag strip> And last but not least my two buddies, Nick Knisely and Mark Edwards."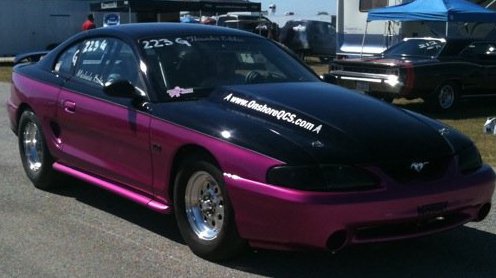 Accomplishments
2007 - Michele won an Ironman at San Antonio Raceway!
2009-Points Program for the 5.80 index at San Antonio
-Miscellaneous other races (mostly bracket)
-Mother, wife, and grandmother!
Words of Wisdom
Goals for Next Year: "To win my first 10.5 race and to hit 4.90's in the 1/8!"
Lucky Charm/Superstition: "I do, I have a stone that my friend Mark Brown gave me and I always say a little prayer for everyone's safety (before I enter the burnout box). Funny, but it is from the Blues Brothers! -Our Lady of Blessed Acceleration, don't fail me now!"
Favorite Memory: "Winning the Ironman in 2007 - I had to go 8 rounds to win and my family and friends were with me the wole time! My son talking me through it every round...something I will never forget! Oh, and of course, being picked for the 32 for Pinks All Out this year at Houston! And the first time I did a HUGE wheelie....carried it past the 60' and almost 1/2 track! Actually, every time I go down the dragstrip, it creates another great memory!"
Who has been an inspiration/mentor to you?"My husband, of course - he always believes that I can do anything I set my mind to, and my grandmother (who has passed on). She taught me the true meaning of love and determination."
What advice would you give young girls who want to be race car drivers?
"Keep your chin up, and do not let anyone tell you that you CAN'T do it. Be a good winner and a good loser and always shake hands with your competition. We are, after all, only people :)"
What advice do you have for your Sisters In Speed?
Keep it fast, hang on tight, and show them your taillights!