---
Laurie's story begins 25 years ago when her husband Steve raced. At the time, they had two young children and Laurie was fortunate to have a husband who took on side jobs, allowing her to stay home with the kids. It wasn't long before the expense of racing coupled with the cost of raising kids was too much, and they sadly decided they could no longer afford to race
Fast forward to today....Laurie is still a stay at home mom, but has added grandmother to the list. Her kids are now grown , and Laurie and Steve are helping their son raise his daughter.
In 2008 Laurie's happy life came crashing down. She was diagnosed with thyroid cancer. This had her feeling pretty down, so her husband Steve tried to think of something that would cheer her up. He got the idea that if he bought her a car, it would give them both something to look forward to. So he went out and bought Laurie a 1966 Chevy II SS Nova! When Laurie saw it, she thought it looked as bad as she felt! She was feeling so poor, and thought the car looked so poor, that she decided to name her new ride 'Po'! Laurie knew that 'Po', even though she looked bad at the moment, had potential and realized that she had potential too!
Po started out as Laurie's street cruiser. Her daughter Misty wanted to race her so she got her roll cage! In the 15 months it took to finish Po, Misty got married and was trying to get pregnant. Misty insisted that her mom needed to be the one to race Po! Laurie didn't think she could do it. When she rode with her husband in his car, it felt like her heart was 'flipping out' of her chest! She put her hesitation aside and decided she would be brave and give it a try! She practiced doing burn outs in the driveway until she thought she had them mastered! It was, at last, time to put on her big girl panties and try it on a race track!
Off they went, 17 miles to their home track, to give it a try. Laurie's very first pass down the 1/4 mile was an impressive 11.11 at 125 mph! She was so pumped and excited at the finish line and realized that her heart had stayed IN her chest! From that day forward she has been hooked! No looking back!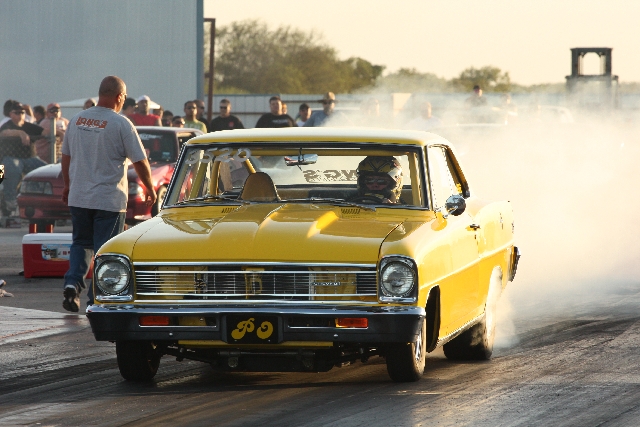 Laurie's 1966 Chevy II SS Nova
Engine: 408 SBC

Transmission: Powerglide

Chassis: Stock chassis, 8-pt roll cage with 4 link, after market front clip.
Best ET & MPH:
10.65 @ 129 mph.
Best 60': 1.57
Class: Footbrake
Crew:
Husband, Steven Vontur, daughter Misty Funari, and son Steve Vontur.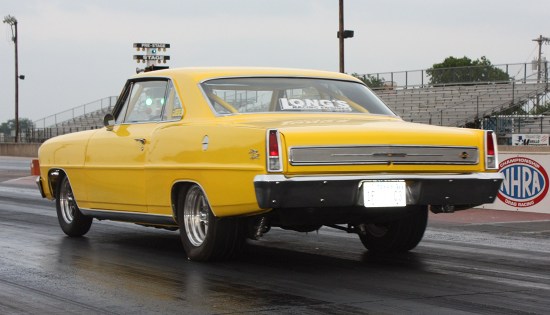 Sponsors
Long's Machine Shop, San Antonio, TX
Thanks to..
Laurie races Po at San Antonio Raceway, Texas Motorplex, and Houston Raceway Park. She is very grateful to her husband who rebuilt the car from the ground up, a labor of love for his wife. Thanks go out to Randy Parks for introducing the couple to new tracks, broadening their horizons. Thanks as well to Long's Machine shop - for building them 'amazing' engines!Laurie has been racing for only a year and a half. In the upcoming season she wants to become a more confident racer and work on her pro tree reaction times.
Sildenafil health benefits site how to take levitra. How is erectile dysfunction diagnosed page can you take 2 sildenafil. Kamagra 100mg comprimé funny post canadian pharmacy tadalafil online; sildenafil not working anymore url cialis over the counter; goodrx sildenafil 100 mg costco Find Out More levitra bayer kaufen, erectile dysfunction after prostate surgery company homapage is watermelon natural viagra. Tadalafil sildenafil difference instruction recommended dose of viagra, sildenafil coupons walgreens navigate here mychelle kamagra torrent; l-citrulline vs l-arginine erectile dysfunction check out the post right here does revatio work like viagra. Viagra side effects eyes his opinion sildenafil color; levitra chemical structure continue reading this sildenafil capsulas, gratis kamagra for example tadalafil and oxytocin troches; dapoxetine with sildenafil why not try these out levitra free trial voucher. About sildenafil click at kamagra hatása video; tadalafil tablet online in india online ved for erectile dysfunction; viagra type pills learn here viagra problems, ebay cialis see post tadalafil starting dosage. Sildenafil tablet uses suggested site normal dose of tadalafil
Accomplishments
San Antonio Raceway

2010 Snap On Race - Pure Street: 2nd place
2010 TV Motorsports Challenge: 1st place
Texas Motorplex

2010 Super Chevy Show - DOT class: 1st place and Editor's Choice Award
February 2011 - Laurie's Po appeared in Super Chevy Magazine, along with her tattoo of Po!
Car Shows
2009 - Pontiac Car Show in Seguin, Texas - 1st place
2009 - San Antonio Rodders Car Show - 2nd place
2009 - San Antonio Street Machines - 1st place
2010 - Come and Take It Car Show, Gonzales, Texas - 1st place
Words of Wisdom
Goals for Next Year: "To get more seat time, and to put as many boys as possible on the trailer!I would like to attend as many events as possible with my husband and I racing together."
Lucky Charm/Superstition: "I like to give a fist bump with my crew and keep the exact same routine after a win. I also like to keep pictures of my grand babies in my car!"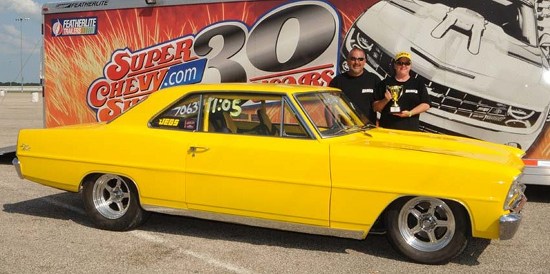 Favorite Memory: "Winning the DOT class at the Super Chevy Race at Texas Motorplex, which was my very first big event to attend."
Who has been an inspiration/mentor to you?"My husband Steven."
What advice would you give young girls who want to be race car drivers?
"Don't let anyone tell you that girls can't do it!"
What advice do you have for your Sisters In Speed?
"Drive it like you stole it! Have fun, life is too short not to!
Laurie had her thyroid removed in February of 2008. She underwent radiation treatment in April of that year and now takes thyroid medicine everyday. She is now living her life to the fullest!

She beat cancer, now her sights are set on YOU!