---
Maddy grew up watching her dad race in the Can Am Stock Super Stock Series. She loved racing even as a toddler, and would go with dad every weekend. She always wanted to stay and watch the jr. dragsters run and wished that someday she could race one! Her wish came true and when she was eight, she got her first jr. dragster. Maddy is now 17 and has moved up to racing a 'big' car. At such a young age she already has 9 years of racing experience! She now competes in the the Maple City Street class at Grand Bend Motorplex. She was driving her 18 second Neon and a 17 second Volvo wagon in 2009, her first season as a licensed driver, and she managed to win her class! Going from jr. dragster to the Street class was a big transition for Maddy because jr.'s are full of girl racers, and she was the only female racing in the street class!
Maddy's 2000 Dodge Neon
Engine:4 cyl.
Transmission:Automatic
Chassis:Stock
Best ET & MPH: 18.40 (Neon),
17.30 (volvo)

Sponsors
Maple City Tire.
Crew
Doug Box, Robin Watson, Corey Faubert, and Willie Box.
Thanks to..
Maddy thanks her mom and dad for introducing her to racing, and for sticking with it, and her for all these years. Also her boyfriend Corey Faubert who always goes with Maddy to the staging lanes, even when his own car needs work done to it - and for being there for her at the nail biting season finish. She also thanks her friends Elizabeth and Keegan and her brother Willie, for helping her and giving her the support she needs!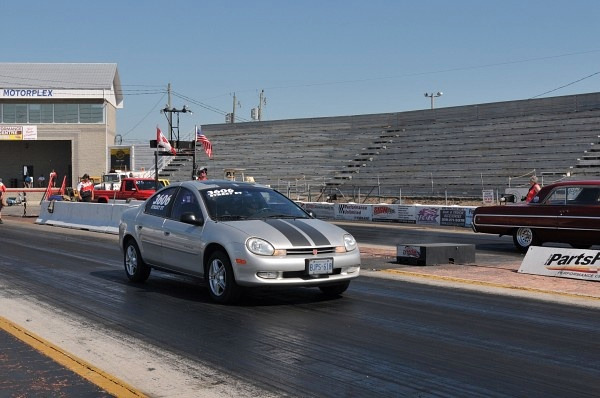 Accomplishments
2009 - Maple City Tire Street ET Champion.

2009 - Senior rookie of the Year.

Winning a senior championship at the age of 17!
Words of Wisdom
Goals for Next Year: "To win whatever class I compete in next season and to keep my 'winning name' up!"
Superstition: "Every time I race, I have to take my hair out of my poney tail, and put it on either side of my neck. I always chew two pieces of mint gum before each round!"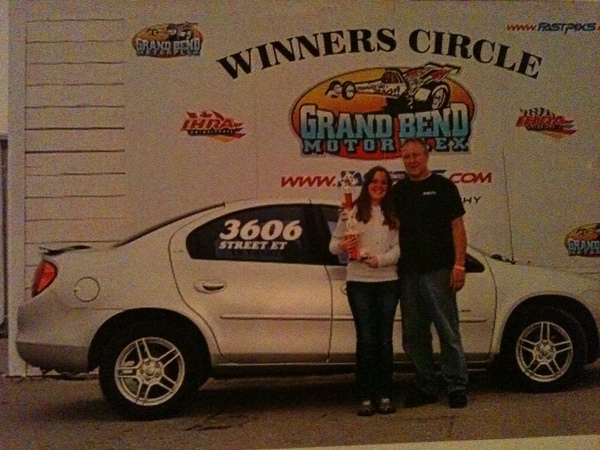 Who has been an inspiration/mentor to you? "My dad, Doug, he taught me everything I know about drag racing. I have also looked up to Shirley Muldowney and Erica Enders - I have both of their movies and Shirley's book! I have also looked up to many other more experienced racers. When my dad raced the Can Am Stock Super Stock Series, I always loved watching Victoria Smith win, just because she was a girl! (sorry Daddy)"
Favorite Memory: " I have so many memories from over the years, ranging from funny friendships to amazing races. I think my favorite memory was when I first got into a Jr Dragster. We were borrowing it to see if I liked it, and I was so excited to get in. My dad strapped me in and told me to 'hammer it when the light turns green and don't worry about not going the entire track!' I hit that pedal and held it down the whole length of the track! It felt so fast, but was actually really slow! My first car was 16 seconds. I also liked racing the other track champions. The fastest vehicle I had to race was a 9 second bike - I had never seen anything come on me so fast, it was an amazing experience
Another great memory happened one day when my brother was unable to race his Jr Dragster. I raced it for him and double classed in Street ET. I got to spend the day racing my friends and my boyfriend and after having not driven a Jr Dragster for over a year, I won the day! It was great and everyone said I was showing my brother up!"
What advice would you give young girls who want to be race car drivers?
"Don't worry about what the boys say. The only reason they say it is either because they're jealous of you or they like you! Always believe in yourself, don't worry about being ridiculed - I'm sure every woman has been at least once. Get some friends or a boyfriend at the track, they can be a great support network when you get down on yourself, or when others talk about you. Keep doing what you love and don't let anyone stand in your way!"
What advice do you have for your Sisters In Speed?
" Keep beating the boys at their own game!"