---
When Karri Anne first met her husband Matt he said to her "I'm into cars." She said "o.k." He said " NO, I'm into cars." Again Karri Anne said "o.k." What she didn't understand that what he really meant was he was really into racing! She was never exposed to racing growing up - her only experience going fast was pushing her daily driver to the limit on the expressway. Matt taught Karri Anne how to bracket race in her daily driver. In 2003 Karri Anne and Matt took his brother's Nova to the Orlando World Street Nationals! Unfortunately, they had to race on Matt's brothers schedule, and it wasn't working out too well for them. This was when Matt asked Karri Anne what her dream car was. Having impeccable taste, Karri Anne responded "a 1968 Chevelle!" He told her he was going to sell his dune buggy and the first car he found (Chevelle or Nova) he was going to buy and build it into their own race car. They found the Chevelle and Karri Anne fell in love with it! Matt and her son did the chassis work and put the car together. In 2005 Matt started racing the car locally in a Heads Up series and Karri Anne was his crew. Halfway through 2006 Matt told her to " Get in!" They spent months at the track 'test and tuning' the car and he taught her how to do a burnout and use the transbrake. These days she is the only driver and has become very protective of her driver's seat! She plans to go to as many races as she has a car for, and to give 100+% of her energy to every race.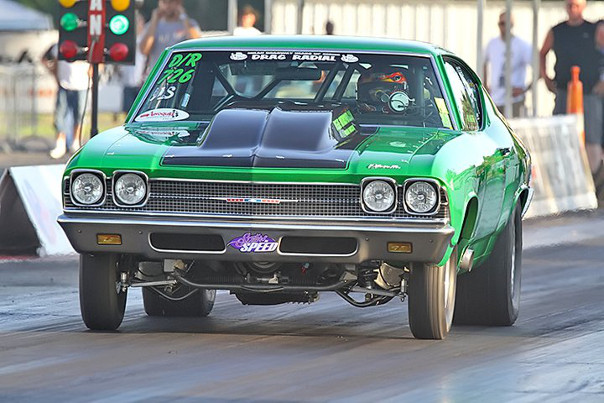 Karri Anne's 1968 Chevy Chevelle
Engine: Holbrook Racing Engines 632 BBC with one stage nitrous

Transmission: Rossler Powerglide 2

Chassis: 25.5 Beebe Motorsports chassis
Best ET & MPH:
7.67 @ 184 mph 1/4
4.92 @ 154 mph 1/8
Best 60': 1.23
Class: Drag Radial, Outlaw Limited Street.
Crew:
My husband Matt is my crew chief. We have a crew of about 5 of us who race my car and another. We all pitch in to crew for both cars.
Sponsors
I haven't picked up any sponsors, yet. Right now we just work hard for everything we have. We always seem to get by with help from friends!
Thanks to..
"My husband, Matt! He puts A LOT into this car and he puts up with me! Dave, who tunes our motor (very well, I might add), my brother-in-law, Craig, who builds and rebuilds our motor EVERY year. Grove who drives the other car in our team, he quietly gives me advice on how to handle the car when it does things I haven't experienced yet, and talks to me on the radio in the staging lanes. Izy painted the car. John is the body guy and was the go-to guy after my crash. Then there are all the people who come to our pits at the track and that we see at car shows who tell us they are cheering us on. I really appreciate that! "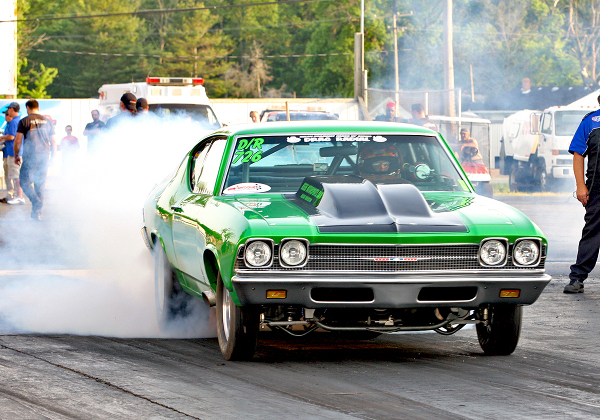 Accomplishments
2004-Won Super Chevy at Norwalk in a car I rented.
2008-Placed 7th at the Hot Rod Pump Gas Drags (first/only women to place in the Top 10)
2009-Fasted nitrous car in Drag Radial at Shakedown at E-Town.
2010-Pinks All Out Champion Summit Motorsports Parkway. 2011 OLS Champion - Milan Dragway 2013Milan Dragway Drag Radial Champion
Words of Wisdom
Goals for Next Year: " In 2011 my only big goal is to go 7 seconds. The 7's teased us all season long in 2010 and I would like to get into the 7's. There are a few racers I would like to beat, just once would be ok. I dream of winning a Wally and will try for one in 2011 at NHRA Unleashed. Going more rounds at the races I attend would be nice. "
Lucky Charm/Superstition: "I have tried different lucky charms every year. 2006 I tried a necklace. 2008 I tried a gorilla given to me by a fan. In 2009, I thought my socks were lucky charms, until the EMT at Shakedown cut them off my foot. So far none have had staying power. Matt put a sticker in the car above my head with a special message to me, I look at that every time I get in. I have a piece of the old transmission that exploded at Shakedown on the keychain to remind us that anything can happen in a fraction of a second. Before Matt closes my door in the staging lanes, we fist pump and have a special saying, I get flustered if we don't do that. "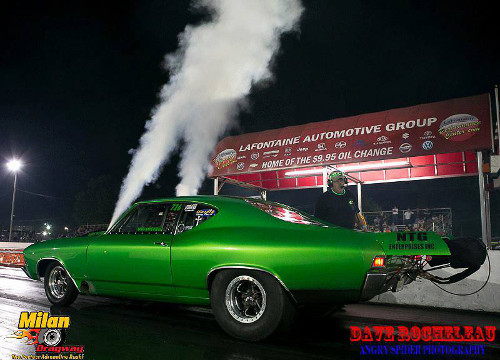 Favorite Memory: "I really don't have a favourite. I enjoy going to the track and I enjoy racing. We have fun at every race whether we win or lose. "
What advice would you give young girls who want to be race car drivers?
"DO IT!!! Only thing stopping you is YOU. Cars, bikes & sleds don't know if the driver is male or female, so just get in, strap in and GO. Learn every aspect of your team. Listen to your engine builder/tuner, chassis builder/tuner, crew chief. These people are good at what they do and learning from them will only make you a better team member. Talk to fellow racers and learn what you can from them. Remember to be a good sport, no matter what. "
What advice do you have for your Sisters In Speed?
" Treat all racers the way you want to be treated. Spend the money on safety, because no amount of money can put you back to 100% if something goes wrong. A well fed crew is a happy crew!!!! Feed your crew. It shouldn't matter the sex of the driver, but right now it does. Until that changes, support your fellow women racers, even if they are in direct competition to you."