---
Julie has only been racing for two years, but her love for speed and fast cars started long before that! She grew up within a family business which housed a body shop behind her house. When her sixteenth birthday arrived, she went out and bought a 1976 Nova. She took it apart in the garage the first day she had it! The following summer she had a pretty nice lookin' hot rod that got her a lot of speeding tickets! She didn't care, it was her fun! Her Friday and Saturday nights were not spent going out to bars and getting drunk like most teens, they were spent going out on Carling Avenue in Ottawa to street race and see what other trouble she could get into. She nor I would recommend doing this these days! She also entered into some of the local car ice races. When she was around 21 years old, she bought a 1966 Chevelle that ran 11.30's. This was when her husband taught her how things worked at a dragstrip, and the rest is history! Her current car was raced by Allan Marsh in Pro Stock in 1985. She races at Luskville, Sanair, Napierville, and Grand Bend Motorplex.
Julie's 1985 Chevy Camaro
Engine: 548 BBC

Transmission:Powerglide

Chassis:3 link pro stock chrome moly chassis
Best ET & MPH:
8.50 @ 160 mph 1/4
5.41 @ 127.9 mph 1/8
Best 60': 1.14
Class: Super Pro Bracket
Crew:
John Therrien(Husband),
Paul Dube (Brother),
Carl Jessup and family (Co-racer and friends).
Sponsors
Le Spot Chip Stand (Luksville, Que),
T& M Electric,
Precision Concrete Finishing (Renfrew, Ont).
Thanks to..
" My husband for all his patience and hard work and determination. My family, my husband's family and daughter Roxanne for all their support, and especially my brother Paul for all his hard work and support. The Jessup family for all their help, sharing their knowledge and giving us their full support. D & D Performance for giving us a well built engine. All our friends and family and co-workers especially my boss Dave who is very much involved and supportive. Rob and Carole from Le Spot for all their help and support."
Accomplishments
2010 - Rookie of the year, Luskville Dragway.
2010 - 4th place points finish.
Words of Wisdom
Goals for Next Year: " Getting better lights and being more consistent. During the winter I try to practice my reaction times as much as I can. I have a plastic button taped on the steering wheel of my regular car and I try to practice every time I drive into work at traffic lights. As soon as the light turns green, I let the button go! I've even seen myself park the car on the side of the street in front of a traffic light on my lunch hour with a Timmies coffee and practice my light! Now if that's not determination I dunno what is! "
Lucky Charm/Superstition: " I have both my father and my uncle's pictures posted on the dash of my car. They are my guardian angels watching over me all the time."
Favorite Memory: " Going to the semi finals this past summer 2010 and beating one of the top drivers."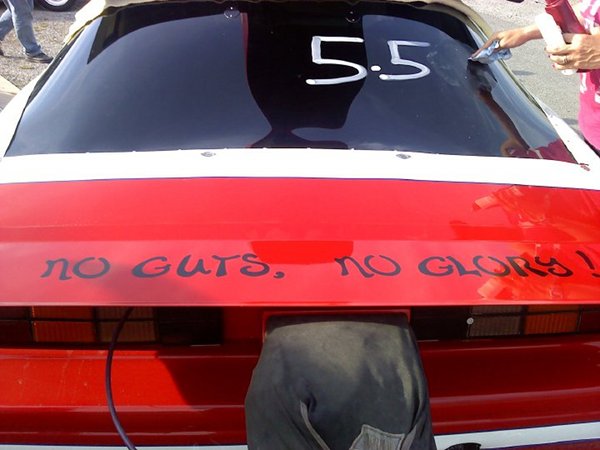 Who has been an inspiration/mentor to you?" When I was young, my one brother Dan used to race stock cars and I went to watch him all the time. Then my other brother Paul drag raced snowmobiles and won lots of big races also. Then on my husband's side, his brother drag raced in the past and drag racing has always been my husband's passion. My husband supports me all the way when it comes to racing and he has taught me lots about the sport. My parents have always been supportive especially my father, he would've loved to see me race today. My mom on the other hand would've rather seen me become a figure skater but that didn't happen. My favorite drivers are Shirley Muldowney and John Force."
What advice would you give young girls who want to be race car drivers?
" Think about your goals and how you'll attain them and go for it. You can do anything you want to do and don't let anyone ever change your mind! The harder you work at something the better you will be! Don't forget with racing comes a lot of expense, so getting a good steady job is also a good start."
What advice do you have for your Sisters In Speed?
"Be competitive, help each other and enjoy the sport together."