---
Denise has been racing for 4 years. She will tell you that it has been a long time coming, ever since she was a young girl. She grew up hearing stories about her dad and uncle racing at old tracks U.S. 30 and Oswego Drag Strip. She remembers standing on a riverbank, watching her dad blast by her in his Avenger low profile jet boat. At that moment she was wishing and dreaming of drag racing, but instead of on the water, she wanted to do it on land. Fast forward to the year 1992, and a drag strip was opening up just a drive away from her home. She would go with her mom, dad, and uncle to watch at U.S. 41 in Morocco, Indiana. Later they attended the opening of Route 66 in 1998. When she started racing her altered, it was 125 inches long, and it was a real handful! She would call it a bucking bronco! It has been extended and is now 150 inches long. Denise's altered is aptly named "Librarian Express", she is employed as a school librarian!
Denise's 1932 Bantam "Librarian Express" Altered
Engine: 555 BBC,
naturally aspirated on gas,
Barry Grant 1190 Carburetor,
Vertex Magneto.

Transmission:Powerglide by Bill Gibson.

Chassis:Chassis Dynamics
Best ET & MPH: 7.93 @ 170.15 mph
Best 60': 1.14
Class: Super Pro
Crew: Gordon Belanger, Alberta Belanger, and Harold Oldham.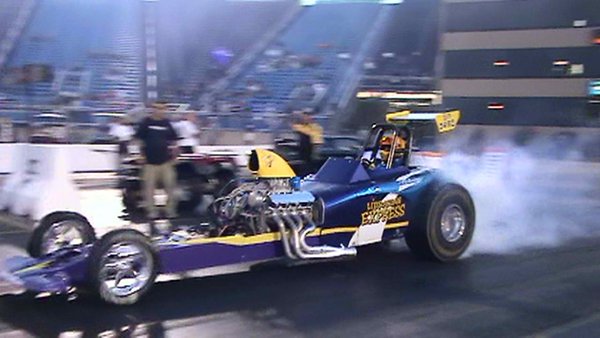 Thanks to..
" I would like to thank my parents (Gordon and Alberta), without them I wouldn't be driving. Harold Oldham for taking the body to get lettered and pin-striped, and panels painted. Also, I would like to thank Bruce Albers for building such a clean, reliable engine."
Accomplishments
I received my NHRA ET drag racing license in 2006.
Keeping the altered from going on its lid when the track locator bar broke.
In June of 2010, I did an exhibition run for Pinks All Out at Route 66 Raceway in Joliet, Illinois.
Words of Wisdom
Goals for Next Year: "I hope to win first place in a Super Pro Competition."
Lucky Charm/Superstition: "My lucky charm is a photo of my Grandma Madeliene Belanger on the roll cage. She passed away in May 2002."
Favorite Memory: "I have 2 favorite drag racing memories. 1st Memory: When I drove the car for the first time I wanted to get my racing license in the altered. At that time, the car ran 8.28. My dad took me over to U. S. 41, and took 1/2 the throttle out of the altered to slow it down. There was no way I was getting in the car for the 1st time and run that E.T! He went down the track, and I picked him up in the pickup truck with wide eyes. I saw the fastest 10 second car @ 150 MPH! It was still too fast! Dad told me not worry to get in it, and drive like your leaving a stop sign. Well, I was out of the throttle more than I was in it. I came around the return road and waited for him. He said, "Do you want to get your license?" I said, "That's why we're here to practice." He said, "You're going to have to go a lot faster than that!" Well, I went 99 m.p.h. and each time after that I went a little faster and loved it!
Now I go 7.90's!"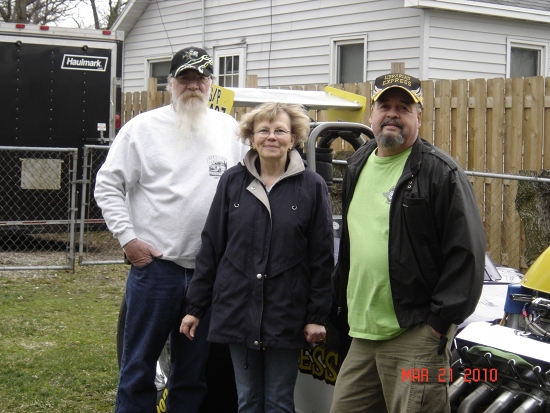 Who has been an inspiration/mentor to you?"My dad, Gordon Belanger."
What advice would you give young girls who want to be race car drivers?"If you would like to be a race car driver, go for it. Don't let anyone tell you you can't do it. I once had somebody tell my dad that I wouldn't have the strength to turn the car onto the return road. How wrong he was!"
What advice do you have for your Sisters In Speed?
"Do your best, be safe, and listen to your instincts!"
Right- Denise's crew; Harold, Alberta, and Gordon.

Watch Denise on You Tube HERE!