---
Brenda grew up watching her dad race and paying attention to his strong sense of determination. At the age of 16 she met Kris, who also had racing in his blood, and destiny took over. At the beginning of their relationship, they would go to Midnight Madness at Maryland International Raceway. Kris would race his 1970 Camaro and Brenda would watch from the stands by herself. Brenda had a new 1987 blue IROC-Z Camaro, a gift from her parents, and decided she should try racing for herself. It only took one pass down the track to know she was hooked! For their first anniversary Kris built her this car. "Forget about jewelry and diamonds - I want to go fast!!" she said! She has been racing this car for about 15 years. It has always been red but with 3 different motors and a few body modifications. Plans for this year include going well over 200 mph, and winning more championships!
Brenda's 1987 Chevrolet Camaro IROC-Z
Engine: 588 BBC w/ 2 stages of nitrous
Transmission: Powerglide
Best ET & MPH: 7.80 @ 185 MPH
Best 60': 1.19
Chassis: Built by Kris Paddock
Crew Chief
Kris Paddock
Sponsors
Mickey Thompson, NGK Spark Plugs, Amsoil, Smith Brothers Pushrods, Girlzspeed Racing, South County Signs (and always looking for a motor sponsor!)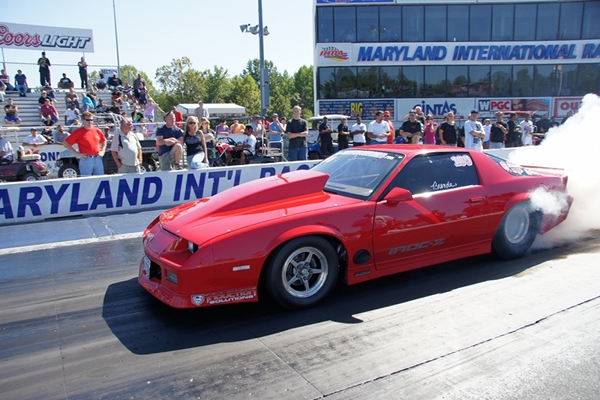 Thanks to..
"My husband Kris for all his hard work on the car and for believing in me and letting me do the driving! My parents for their love and support and our sponsors NGK Spark Plugs, Mickey Thompson Tires, Amsoil, Smith Brothers Pushrods, Girlzspeed Racing and South County Signs."
Television
NOPI Tunervision
Pinks All Out
Inside Drag Racing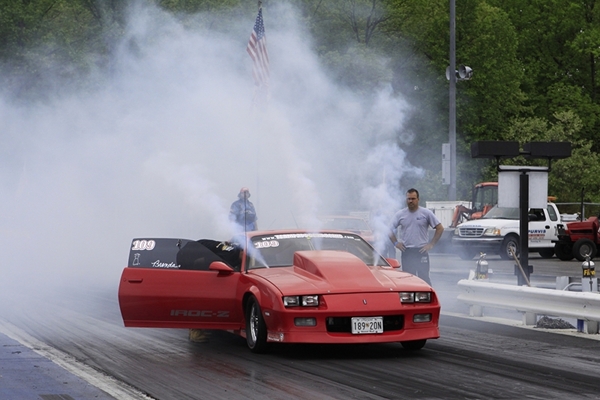 Accomplishments
2010 Top Five Outlaw 10.5
2009 Top Ten Pritchett Brothers Ultimate Outlaw Shootout Series
2009 Top Ten Street Outlaw
2008 NDRA Atco Raceway Quick 16 -Winner
2008 NDRA Old Bridge Township Raceway Quick 16 -Runner-up
2008 NDRA Old Bridge Township Raceway Quick 16 -#1 Qualifier
2008 NDRA Maryland International Raceway Quick 16-#1 Qualifier
2008 NDRA Quick 16 Champion
2007 NDRA Pro Outlaw Old School Champion
2007 Super Chevy Top Ten Editor's Choice Drag Race Award
2007 Pro Systems "Baddest of the Bad"
2007 Pro Systems Customer Showcase for September
2007 NDRA Milan Dragway -Pro Outlaw Old School -Winner
2007 NDRA New England Dragway -Pro Outlaw Old School -Winner
2007 NDRA Maryland Int. Dragway -Pro Outlaw Old School -Winner
2007 NDRA Milan Dragway -Pro Outlaw Old School -#1 Qualifier
2007 NDRA New England Dragway -Pro Outlaw Old School -#1 Qualifier

2006 NMCA Super Street Top Ten
2006 NMCA Outstanding Sportsmanship and Contribution Award
1997 Big Rig Truck Nationals Tuff Truck Class - MIR - Runner Up
1995 MIR Midnight Madness Pro Street Champion
1992 MIR Ladies Summer Open -Runner Up
1992 MIR Ladies Fall Open -Winner
Magazines
2010 Chevy High Performance Magazine (November)
2010 Smith Brothers Push Rods Catalog
2008 Wilwood Brake Catalog
Featured in Fastest Street Car
RPM Magazine
Words of Wisdom
Favorite Memory: "It was last September at the Match Race Madness Race at Maryland International Raceway. Luckily we got there early and Kris was able to get the car almost ready because around 11:00 a.m. Kris cut his hand really bad and needed stitches. Fortunate for us, my parents were on their way down, so we met them at the gate and they took our golf cart and we jumped in their truck and went to the hospital. We told the E.R. that they needed to hurry it up because we had a race to go to! We made it back in time and even had a few hours to spare before my first match race. The first race was with a Mustang. I won that first round and what makes it my favorite drag racing memory was seeing the proud look on my dad's face when I got back to the trailer. My dad had a stroke in August and it was the scariest thing I have ever been through. And yeah, he has been to many of my races, and seen me win, but this time was different. To see the look on his face and to hear him say how proud he was that I whooped up on that Mustang was just something I will never forget. No, I didn't win any money or get paid and I even blew up the motor on the second race that night, but that night is one I will never forget!"
Mentor/Inspiration:
"My dad. He used to race cars and then he tractor pulled. He is a truck driver and even his Peterbilt truck that he worked with everyday is one of the fastest on the east coast! He couldn't be beaten at anything he did. His tractor had "Determination is Hell" on it and that is where I got that motto from. "
Lucky Charm "I have a necklace that Kris bought me for Christmas the year that my kitty "Speedy" passed away. It is a heart locket with her picture in it and also on the necklace is an angel that my parents bought me. One time, we were on our way to a race and I noticed that I had forgotten all of my jewelry. So we turned the rig around and went back home to get it just so I wouldn't race without my necklace. I also have a friendship coin that my friend Lisa Bodrey gave me at an NMCA race a few years back that I keep in my pocket along with a little tiny calico cat ornament."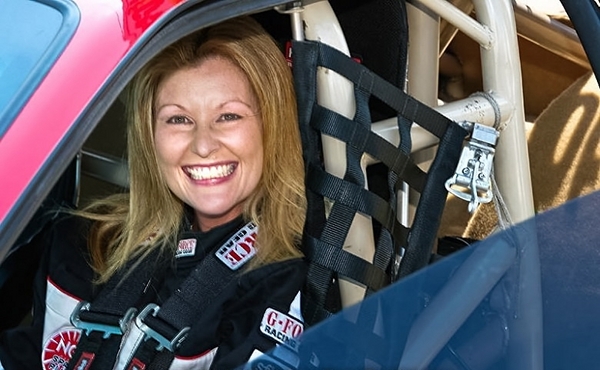 What advice would you give young girls who want to be race car drivers?
"Follow your dreams and just do it! You'll be happy you did."
What advice do you have for your Sisters In Speed?

"No matter how discouraging things can get sometimes, never give up. Remember "Determination is Hell." Be safe, keep it straight and keep the rubber side down!"
To read more about the Team Paddock Racing Team, just click the link below!
www.teampaddockracing.com