---
Ashley grew up in the small town of Amherstview Ontario and developed her love of drag racing watching her Dad, Doug Kennedy race his 1978 Chevy Malibu at various Racetracks. She wanted so much to make a trip down the track with her Dad, but due to safety restrictions the track staff wouldn´t allow him to take her as a passenger. It was hard for Doug to see his 'little girl' feeling disappointed so he did what any good drag racing dad would do, he took the car and his daughter back to his shop and he taught her the basics. The following weekend, that car had a new driver, and Ashley proved to her dad and the track staff that she had what it takes to be a race car driver! She did a better job on her first day out than he had done in 20 years!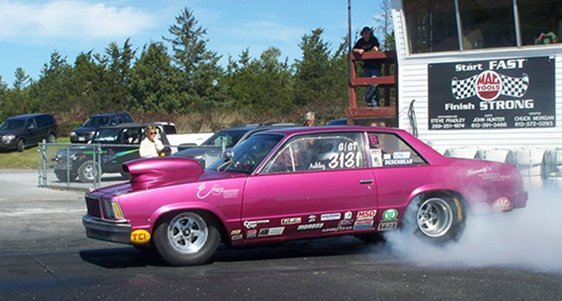 Ashley's 1978 Chevy Malibu
Engine: 468 BBC.
Transmission: Powerglide with Trans Brake.
Chassis: 2X3 Strange Engineering.
Best ET & MPH: 6.40 @ 107 mph 1/8th mile.
10.17 @ 130 mph 1/4 mile.
Best 60' 1.40
Sponsors
D.J. Repair (Kingston, Ont.)
Envy Hair Studio (Kingston, Ont.)
Tint You Ride (Kingston, Ont.)
James Braden Ford (Kingston, Ont.)
We could always use more sponsors!
Thanks to..
Ashley has been racing her Malibu in the Super Pro class at Shannonville Racetrack for four years. A fourth place points finish in 2010 proves she is a force to reckon with! Her Dad Doug makes the perfect crew chief as he both built and raced the car.
Ashley is very thankful to her Dad, who let her take over his spot in the drivers seat. She also has other people to thank including; Rick Stroud and Charlie Kenopic (RJS) who are fellow racers who built and repair her engine, Hector Pickering (Transmission's Unlimited) who does the work on her transmission, and all the guys who help get the car ready for upcoming races (Barry Acker & Jamie Cunningham) and Dale Gauthier who took the time to help her learn the skills of drag racing and whom she credits for making her a better racer!
Accomplishments
Ashley's accomplishments are impressive for someone with only 4 years experience!
2010 - 4th in points Shannonville Super Pro.
2010 - Driver of the Year, Shannonville Dragway.
2009 - 5th in points Shannonville Super Pro.
Three Top 10 finishes
Words of Wisdom
Goals for Next Year: " To win of course! Also a top 3 finish in the points system. "
Lucky Charm: " Speedy Gonzalas. "
Favorite Memory: " Winning 2nd place & seeing Top Fuel cars for the first time. "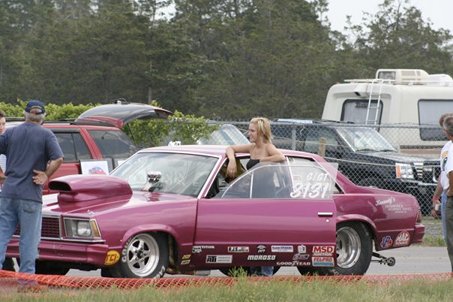 Mentor/ Inspiration: " Ashley Force. "
What advice would you give young girls who want to be race car drivers?
" Safety first, make sure all of your equipment is up to date and that you have the right gear! "
What advice do you have for your Sisters In Speed?
" We gotta show those boys that girls can race just as good as they can! So let´s show ´em up and send them packing home by kicking their butts! "