---
Yvonne has had a lifelong love of cars. It started when she was a very little girl and unlike her friends, she had a fascination for cars and engines. By the time she reached her fourteenth birthday, she had figured out that you could get a motorcycle license at the age of fourteen. She wanted so badly to be able to drive, and begged her dad to let her get a dirt bike. Like any dad, he was afraid she would get hurt and said "NO!" She admits now that he probably had the right response! She survived waiting until her sixteenth birthday by taking auto shop classes and hanging around garages. She wasn't content at just driving a car, she wanted to understand them, how they worked, how to work on them, everything there was to know! Her family was puzzled by this behavior, as no-one was mechanically inclined or interested in cars. Her mother labeled it a "phase"! Three decades later, her mom has given up on the "phase" idea.
For 20 years, Yvonne owned a 1967 Chevy II Pro Street car that she spent years building and rebuilding through three different chassis and many engine combinations. The car was certified to go 7.50 and she was running 7.60's at 180 mph. The car weighed 3040 lbs! It was at the end of it's cert and the time came to seriously consider building a new car. Her dream had always been to race a Pro Mod. Yvonne believes that Pro Mod drivers are some of the best in the world because of the difficulty of operating a car with that much power on suspension. She was always glued to the fence when the Pro Mods came up! Her years in the Chevy II provided her with much needed experience which was a huge help when it was time to step up to the Camaro, a whole other animal!
When she started driving her Camaro, she decided to take baby-steps. The past two seasons were spent getting seat-time and a feel for the new horsepower. Her goal was not to go out and set the world on fire, but rather to get the car from A to B as safely and effectively as possible. She will tell anyone that it's a lot harder to drive one of these machines than it looks on TV! The first 100 feet are the most critical for these cars. If you see a Pro Mod make it 300 feet, it will usually make it the rest of the way. Tire shake is by far the most dramatic and difficult action to anticipate, control, or recover from. Both car and driver take a lot of abuse from tire shake.
Yvonne's 1968 Chevy Camaro Pro Mod
Engine: Redline Race Cars
762 Fulton w/Nitrous

Transmission: Rossler Turboglide

Best ET & MPH: 6.41 @ 218

Best 60': 1.02

Classes: Pro Street, Pro Mod.
Crew
Mike Lucas and Mike Stevenson.
Sponsors
Speedwire, Rossler Transmissions, Redline Race Cars.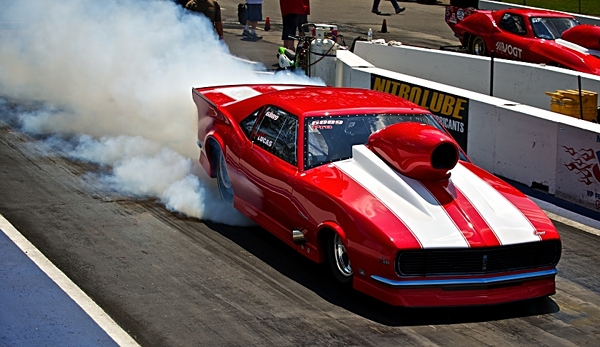 Thanks to..
"Thanks to my mom and dad, my husband Mike, and many friends who have always supported me! Frank Tamez, Charles Carpenter, Joe Lepone. These three guys have helped us tremendously in the last year and are extremely talented and knowledgeable. Photos by Paul Grant."
In 2010 Yvonne competed at Pacific Raceways in Seattle, WA; Mission Raceway Park, Mission, BC; Castrol Raceway Park in Edmonton, Alberta; and The Strip at LAs Vegas Motor Speedway. She is looking to add three more facilities to her travels if all goes as planned!
Accomplishments
In the past 2 years:
-Running my first 6 second pass and going over 200 mph.

-Qualifying at my first "real" Pro Mod race and getting a first round win! This was the first goal reached of a dream 20+ years in the making!

-Racing in front of 20,000 spectators in Edmonton three days in a row! It was nerve-racking and a blast all at the same time!

-Qualifying #21 and making the 32 car field out of 53 Pro Street cars. The ONLY female that showed up to compete at SCSN in Vegas!

Words of Wisdom
Goals: "We continue to work hard on our engine and nitrous program. These cars always have safety upgrades each year that have to be done as well. At the last race in 2010 (SCSN) we ran our fastest and we want to keep the momentum going and improve that number each time out in 2011 as well. I have specific goals set for myself and I hope to achieve those numbers very soon! We hope to travel, qualify and go rounds at all races we attend. Most importantly have fun, be safe and go fast! "
Inspiration:"Amelia Earhart" - She believed that girls should get the same chance to study math, science and mechanics in school at a time when that was not offered for females. She worked for change because she loved those things. She not only wanted her chance to live her dream, she wanted it for other women too. Also, Melanie Troxel because she works hard to be the best driver and team player she can be. She is an excellent driver not because she never made mistakes but because she has and learned from them."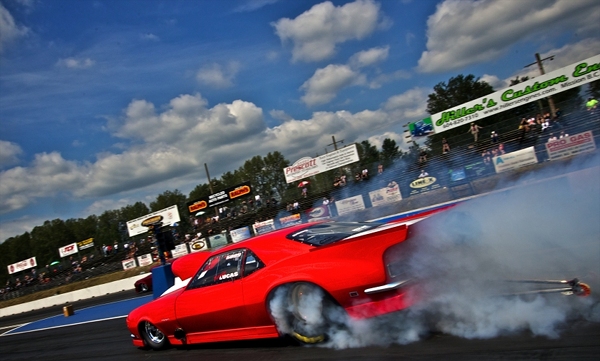 Lucky Charm "I say a prayer every time I get in the car. I pray for all participants, crews and spectators. To increase my 'luck' I always abide by every safety rule and wear every appropriate piece of safety equipment available for a driver."
Favorite Memory: " Running my first pass in the 6 second zone. In Las Vegas, the stands are far away from the finish line so it was just me and four other guys up there celebrating. We made a lot of noise for just a few people!"
What advice would you give young girls who want to be race car drivers?
" Do your very best in school. Take the classes that most interest you. Don't expect things or experience to be given to you because they are best earned."
What advice do you have for your Sisters In Speed?
"I've been grateful and privileged to work with a lot of talented people in this industry simply by asking them for help. It takes courage to talk to people but many are willing to offer advice, help and insight as long as they see you are serious and hardworking. There is a lot at stake when you enter the racing world but you do yourself a big favor when you stop trying to seek approval from others. Set your own goals. Your number one priority should be to listen to your inner voice, believe in yourself and don't try to be a hero. Trying to 'show off' will only get you into trouble. Watch other drivers and learn what it takes to be a good one. You don't have to be mechanically inclined but you should have a basic knowledge of your engine and transmission. Listen when crew guys talk about the car and ask questions. The more knowledge you acquire will only help in your driving and you will understand what the car likes and needs. You will also know when something is going bad and its time to lift. That is probably the biggest skill that can save you money in parts!"